Long Dan Xie Gan Wan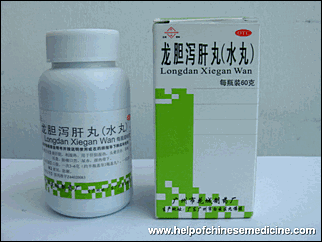 $5.95
Chinese name:
Long Dan Xie Gan Wan (luhng dahn shyeh gahn wahn) Gentian Clear the Liver Pills
Indications:
Excess heat in the liver with symptoms like red eyes, headache, bitter taste in the mouth, irritability, hearing loss
Functions:
Clears damp heat and fire from the liver and from the gallbladder, supports the health of the liver and biliary system, urinary tract, chest, mouth, and inner ear
Dosage:
half cap or full bottle cap each time(3-6g), 2 times per day, bottle contains 60 g This formula should be discontinued as soon as symptoms subside since long-term use can weaken digestion.
Manufacturer:
Guangzhou Huacheng
Description:
Long Dan Xie Gan Wan is a Chinese Medicinal formula that is utilized when a patient has been diagnosed as having excess Liver Heat, excess Gall Bladder Heat, and Damp Heat accumulation.
This traditional formula treats a wide range of inflammatory conditions.
It has been considered helpful in treating irritability and headaches associated with stress.
Other applications have been in the treatment of conjunctivitis; red, swollen eyes; ringing in the ears; vaginal discharge (bad smelling); and swollen genitals. It is often used to treat serious illnesses s.c. as gall stones, gall bladder diseases, hepatitis, herpes, shingles, otitis meida, cystitis, hyperthyroidism, migraines and jaundice.
It was listed in the "Analytic Collection Of Medicine Formulas" (Yi Fang Ji Jie) by Dr. Wang Ang in 1682AD.
We can guarantee that the natural products from ShenYi Center of Chinese Medicine are 100% authentic and our prices are competitive in comparison to other herbal stores.

We ship via Hong Kong post.
Paypal and credit cards accepted. Most of the orders areshipped within 24 hours.

Please contact us for any enquiries:
info (at) helpofchinesemedicine.com


Chinese Medicine Category
Long Dan Xie Gan Wan Medicine Researches
A Combined Use of Acupuncture, Moxibustion and Long Dan Xie Gan Tang for Treatment of 36 Cases of Chronic Pelvic Inflammation 2004 Jin Yabei
Objective: To observe the therapeutic effect of acupuncture and moxibustion on chronic pelvic inflammation. Method: Thirty-six cases of chronic pelvic inflammation were treated with acupuncture,the Pathogenic Fire of the Liver) and medicinal cake moxibustion. Result: The treatment resulted in cure in 9 cases, obvious effect in 16 cases, effect in 7 cases and no effect in 4 cases. Conclusion:Acupuncture, moxibustion and the ancient recipe Long Dan Xie Gan Tang used together can enhance the therapeutic effects on chronic pelvic inflammation. 4 Cases of Professor RUAN Shi-bao Applying New Long-dan Xie-gan Decoction
Journal of Chengdu University of Traditional Chinese Medicine 2005
18 Cases obstinate Nephrotic Syndrome's Treatment by A Decoction of Long Dan Xie Gan Wan
Chinese Journal of Basic Medicine in Traditional Chinese Medicine 2002
A Report of 28 Cases of Zoster Treated by Long Dan Xie Gan Wan Decoction with Chuan Hu Ning
Yang Xianli
Journal of Guiyang College of Traditional Chinese Medicine 2006
Experiences of Long Dan Xie Gan Decoction Syndromes Treated by Acupuncture and Moxibustion
Henan Traditional Chinese Medicine 2004
A Comparison between the Toxicity and the Effectiveness by Reducing sth. in the Decoction of Long-dan Xie-gan on Animal's Experimental Dermatitis
Beijing Journal of Traditional Chinese Medicine 2007
Effective Observation on Zoster Treated by Modifying Long Dan Xie Gan Decoction
Yang Lei
Journal of Guiyang College of Traditional Chinese Medicine 2006

This is the page of Chinese medicine for clearing the liver, you can buy Long Dan Xie Gan Wan online here.