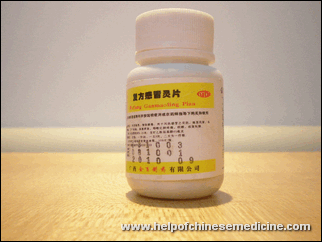 $3.95
Chinese name:
Gan Mao Ling (gahn mao ling), Fufang Gan Mao Ling Pian Cold Formula
Ingredients:
Japanese honeysuckle flower, Chrysanthemum flower, Simple leaf chaste tree fruit, Isatis root, Cassia bark, Chinese peony root, Chinese mint
Indications:
Cold or flu due to either wind heat or wind cold with fever, mild chills, sore throat, and stiff neck
Functions:
Dispels wind, clears heat, expels viruses, cleans toxin, relieves cough
Dosage:
one time 4 pills, 3 times per day, contains 100 pills
Manufacturer:
Guangxi Jinye Pharmaceutical Co.
Description:
Gan Mao Ling is recommended to be taken at the first sign of cold or flu symptoms and it also works just as well after cold symptoms have become more severe. It can also be used to prevent a cold. It is very popular formula in China used as excellent cold and flu remedy for symptoms of chills, high fever, swollen lymph glands, sore throat, stiffness of upper back and neck. Effective both in wind-cold and wind-heat invasions.

If symptoms include nasal and sinus congestion, the formula can be taken with Bi Yan Pian. If a sore throat occurs along with the cold, it can be taken with Chuan Xin Lian Antiphlogistic Pills. If there is accompanying nausea or diarrhea, Huo Xiang Zheng Qi Wan can be added.
Experimental study on the pharmacology of 999 gan mao ling, a compound recipe of Chinese and Western materia medica
Author: Mao,-Y-Q; Mu,-Z-X; Zhang,
Citation: Zhongguo-Zhong-Xi-Yi-Jie-He-Za-Zhi. 2004
Abstract: OBJECTIVE: To study the pharmacologic characteristics in synergism and complementation of 999 Gan mao ling, a compound recipe composed of Chinese and Western materia medica (CMM & WMM), as well as its theoretical basis of matching of Chinese and Western materia medica. METHODS: The torsion response induced by glacial acetic acid in mice, toe swelling induced by carrageenanin rats, delayed hypersensitive response in mice and fever induced by endotoxin in rats and rabbits were used to comparatively study the actions of CMM & WMM in Gan Mao Ling. The effect of CMM in antagonizing liver damage caused by WD (acetaminophen) in mice was also studied. RT-PCR method was used to analyze the expression of related cytokines. RESULTS: Gan Mao Ling showed a significant antipyretic and analgesic effect, it could inhibit the carrageenan induced inflammation, antagonize the endotoxin induced fever, and promote the amount for expression of cytokines in rats' splenic tissue with pneumococci infection to some extent. The CMM in GML showed certain protective effect on acetaminophen induced liver damage. CONCLUSION: Gan Mao Ling has a potent antipyretic, analgesic and anti-inflammatory effects, CMM & WMM in Gan Mao Ling showed markedly synergism and complementation, and CMM in it has liver protective effect.
This is the page of Chinese medicine for cold and flu, you can buy Gan Mao Ling wholesale online here.