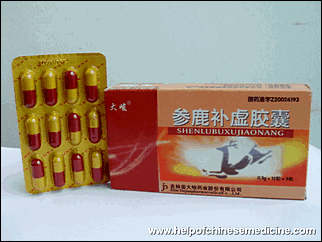 $6.95
Chinese name:
Shen Qi Da Bu Wan (shen chee dah boo wahn), Shen Lu BuXu Jiao Nang Codonopsis Astragalus Great Tonifying Pill
Indications:
Weak immunity, fatigue, lack of appetite
Functions:
Tonifies lung and spleen qi, strengthens immunity.
Dosage:
3 capsules per time, two times per day, 36 capsules
Manufacturer:
Jilin Dajun Pharmaceutical Co.
Description:
Shen Qi Da Bu Wan is a general tonic for qi, blood, and immune function (wei qi). It is a mixture of Astragalus and Codonopsis root (dang shen). Both herbs are important tonics, and combined they make a balanced formula. They have a synergistic effect, since they both stimulate the central nervous system, lower blood pressure, stimulate the immune system, and increase the blood count.