Run Chang Wan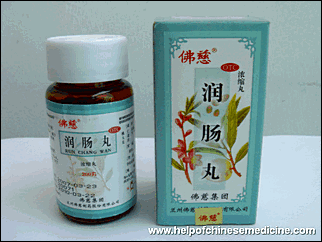 $5.95
Chinese name:
Run Chang Wan (ruhn chahng wahn) Moisten Intestines (Bowels) Pills; Peach Kernel Pills, Chinese Mild Laxative Pills
Ingredients:
Persicae seed, Notopterygii, Rhei, Angelica Sinensis, Cannabis seed
Indications:
Constipation due to dry bowels, but also with related symptoms of dry skin and nails, dry month and tongue
Functions:
Lubricates the intestines, promotes bowel movement, purges heat from the intestines
Dosage:
4 pills each time, 3 times per day, contains 200 pills
Manufacturer:
Lanzhou Foci
Description:
Run Chang Wan is known as a natural, gentle Chinese medicine for constipation. It acts as a mild laxative, working both as an intestinal lubricant and a purgative to the large intestine when constipation due to dryness occurs. It is very effective to treat constipation associated with dry bowels, blood deficiency, and insufficient bodily fluids, conditions often experienced by the elderly and postpartum women.

Run Chang Wan is contraindicated for pregnant women due to its purgent effect in the lower abdomen.

Men and women suffering from this type of constipation and related symptoms should drink a glass of warm, slightly salted water first thing in the morning, on a empty stomach.
We can guarantee that the natural products from ShenYi Center of Chinese Medicine are 100% authentic and our prices are competitive in comparison to other herbal stores.

We ship via Hong Kong post.
Paypal and credit cards accepted. Most of the orders areshipped within 24 hours.

Please contact us for any enquiries:
info (at) helpofchinesemedicine.com


Chinese Medicine Category
Run Chang Wan Medicine Researches
Effectiveness and safety of herbal medicines in the treatment of irritable bowel syndrome: a systematic review.
Shi J, Tong Y, Shen JG, Li HX.
Department of Traditional Chinese Medicine and Western Medicine, Liyuan Hospital, TongJi Medical College, HuaZhong University of Sciences and Technology, Wuhan, Hebei Province, China.
AIM: To explore the efficacy and safety of herbal medicines (HM) in the treatment of irritable bowel syndrome (IBS). METHODS: A computer-based as well as manual literature search was performed. We reviewed randomized controlled trials on the treatment of IBS with and without HM. RESULTS: A total of 22 studies with 25 HMs met the inclusion criteria. Four of these studies were of good quality, while the remaining 18 studies involving 17 Chinese herbal medicine (CHM) formulas were of poor quality. Eight of these reports using 9 HMs showed global improvement of IBS symptoms, 4 studies with 3 HMs were efficacious in diarrhea-predominant IBS, and 2 studies with 2 HMs showed improvement in constipation-predominant IBS. Out of a total of 1279 patients, 15 adverse events in 47 subjects were reported with HM. No serious adverse events or abnormal laboratory tests were observed. The incidence of the adverse events was low (2.97%; 95% CI: 2.04%-3.90%). CONCLUSION: Herbal medicines have therapeutic benefit in IBS, and adverse events are seldom reported in literature. Nevertheless, herbal medicines should be used with caution. It is necessary to conduct rigorous, well-designed clinical trials to evaluate their effectiveness and safety in the treatment of IBS. Effects of herbal medicine Dai-Kenchu-to on anorectal function in children with severe constipation.
Iwai N, Kume Y, Kimura O, Ono S, Aoi S, Tsuda T.
Division of Surgery, Children's Research Hospital, Kyoto Prefectural University of Medicine, Kyoto, Japan
AIM: We administered the herbal medicine Dai-Kenchu-To (DKT) to children with severe chronic constipation or with severe constipation after surgery for anorectal malformations. We then objectively assessed the effect of DKT on anorectal function by manometric study in addition to using a clinical scoring system. PATIENTS AND METHODS: Ten children with severe chronic constipation and 5 children with severe constipation after surgery for anorectal malformations were assessed. These 15 children received 0.3 g/kg/day of DKT for periods ranging from 3 months to 1 year. We objectively assessed their bowel function, sphincter function and rectal reservoir function by anorectal manometry and clinical scoring. RESULTS: In 10 children with severe chronic constipation, the clinical score after administration of DKT (7.2 +/- 0.8) improved significantly compared with that before administration of DKT (4.6 +/- 2.9) (p < 0.02). The threshold sensation volume and the maximum tolerable volume after administration of DKT significantly (p < 0.05; p < 0.01) decreased (128 +/- 63 ml vs. 69 +/- 18 ml; 229 +/- 99 ml vs. 144 +/- 47 ml), and rectal compliance after administration of DKT also significantly (p < 0.05) decreased (12.4 +/- 10.9 ml/cmH(2)O vs. 4.7 +/- 3.9 ml/cmH(2)O). CONCLUSION: The present study demonstrated that DKT had a favorable clinical effect on severe constipation in children, and anorectal manometry showed an improvement in their rectal reservoir functions. It appears that the results were secondary to DKT-stimulated peristalsis of the intestine, which promoted regular bowel habits.
This is the page of Chinese medicine for constipation, you can buy Run Chang Wan online here.