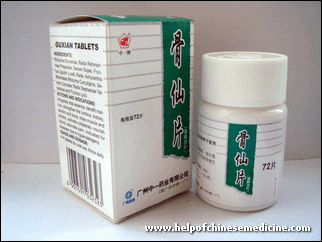 $6.95
Chinese name:
Guxian pian, Hyperosteogeny formula
Ingredients:
Rhizoma Drynariae, Radix Rehmanniae Preparata, Semen Sojae, Fructus Ligustri Lucidi, Radix Achyranthis
Indications:
Diseases due to hyperosteogeny
Functions:
Invigorates vital essence, benefits marrow, strengthen the lumbus, kidney, tendon and bone, alleviate pain
Dosage:
4-6 tablets per time, 3 times per day
Manufacturer:
Guangzhou Zhongyi
Description:
Hyperosteogeny is a common multiple illness among middle aged and senile people. This type of arthritis generally afflicts those from middle age on and is characterized by a build-up of calcium deposits in and around the bony surfaces within a joint.
Chinese herbal medicine Guxian pian is effective for diseases due to hyperosteogeny.