Xiao Huo Luo Wan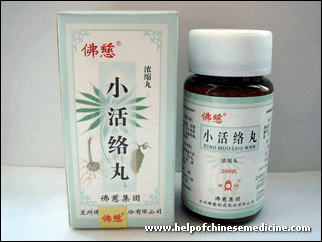 $6.95





Also available:
Fufang Xiaohuoluo Wan by Beijing Tongrentang
Dahuoluo Wan by Beijing Tongrentang
Sanhan Huoluo Wan by Beijing Tongrentang
TongRen DaHuoLuo Wan by Beijing Tongrentang


Chinese name:
Xiao Huo Luo Wan
Ingredients:
Rhizoma Chuanxiong, Radix Aconiti Kusnezoffii, Arisaema Cum Bile, Lumbricus, Resina Commiphorae, Resina Boswelliae
Indications:
Arthralgia due to wind-cold-dampness, pain of limbs, Sciatica pain, numbness and spasm, arthritis
Functions:
Expels wind and removes dampness, activates the collaterals to relieve numbness, activates qi and blood, benefits kidney yang to disperse cold
Dosage:
6 pills each time, 1-2 times per day, contains 200 pills
Manufacturer:
Lanzhou Foci
Description:
Xiao Huo Luo Wan is an excellent Chinese formula for treating all kinds of problems that occur because of restricted blood flow.
Chinese treatments are very effective for treating problems like paralysis, arthritis, and stroke. These problems are created due to blockage in the channels that restrict the movement of blood and Qi.
When the channels are blocked, passage of nutrients to the essential organs is also blocked. As a result, numbness is created in various muscles and stiffness is caused. Restriction of Qi flow in the body causes pain and limits the physical movement. Hence, Chinese medicines use different formulae with many warm herbs for treating blockage issues.
When the blocks are cleared, the Qi flows easily and the increased blood flow will relieve the pain and stiffness.
We can guarantee that the natural products from ShenYi Center of Chinese Medicine are 100% authentic and our prices are competitive in comparison to other herbal stores.

We ship via Hong Kong post.
Paypal and credit cards accepted. Most of the orders areshipped within 24 hours.

Please contact us for any enquiries:
info (at) helpofchinesemedicine.com


Chinese Medicine Category
Xiao Huo Luo Wan Medicine Researches
Simultaneous determination of six Aconitum alkaloids in proprietary Chinese medicines by high-performance liquid chromatography
Ying Xiea, Zhi Hong Jianga, Hua Zhoua, Hong Xi Xub and Liang Liua, ,
aSchool of Chinese Medicine, Hong Kong Baptist University, Kowloon Tong, Kowloon, Hong Kong, People's Republic of China bHong Kong Jockey Club Institute of Chinese Medicine Limited, 2 Science Park East Avenue, Shatin, New Territories, Hong Kong, China
By optimizing the extraction, separation and analytical conditions, a reliable and accurate high-performance liquid chromatography (HPLC) method coupled with photodiode array detector (DAD) was developed for simultaneous quantitative determination of six Aconitum alkaloids, i.e., aconitine, mesaconitine, hypaconitine, benzoylaconine, benzoylmesaconine and benzoylhypaconine, in Chinese medicinal herbs, aconite roots, and 12 proprietary Chinese medicines containing processed aconite roots. The separation of these Aconitum alkaloids was achieved on an ODS column with gradient elution using solvents of acetonitrile and ammonium bicarbonate buffer (pH 10.0 ± 0.2). Intra-assay and inter-assay precision of the analytes were less than 2.97%, and the average recovery rates obtained were in the range of 90–103% for all with RSDs below 3.28%. Good linear relationships of Xiao Huo Luo Wan were showed with correlation coefficients for the analytes exceeded 0.999. Quantitative analysis of the six Aconitum alkaloids in the unprocessed and processed aconite roots and in twelve proprietary Chinese medicines containing processed aconite roots showed that the contents of the alkaloids varied significantly. This method and quantitation results can provide a scientific and technical platform to the products manufacturers for setting up a quality control standard as well as to the public for quality and safety assurance of the proprietary Chinese medicines and other herbal preparations containing aconite roots.
This is the page of Chinese medicine for arthritis, you can buy Xiao Huo Luo Wan online here.