Pifubing Xuedu Wan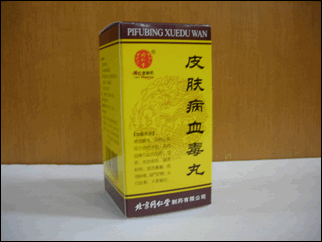 $5.95
Chinese name:
Pifubing Xuedu Wan
Ingredients:
Radix Angelicae sinensis, Radix paeoniae Rubra, Periostracum Serpentis, Fructus frosythiae, Cercis chinensis, Radix arnebiae seu lithospermi.
Functions:
Remove of Rash, pruritus, red face, furuncle, headaches, dry stools
Dosage:
20 pills each time, 2 times daily, contains 200 pills
Manufacturer:
Beijing Tongrentang
Description:
Pifubing Xuedu Wan is used to for many skin problems such asnettle rash (urticaria), eczema, tingling itches of the skin, freckle, acne, red skin, swelling nose, cutaneous ulcers, tinea pedis (athlete's foot)
We can guarantee that the natural products from ShenYi Center of Chinese Medicine are 100% authentic and our prices are competitive in comparison to other herbal stores.

We ship via Hong Kong post.
Paypal and credit cards accepted. Most of the orders areshipped within 24 hours.

Please contact us for any enquiries:
info (at) helpofchinesemedicine.com


Chinese Medicine Category
Pifubing Xuedu Wan Medicine Researches
Observation on effect of pifubing xuedu pill combined with diyin tablet in treatment of psoriasis
The 107th Hospital of PLA, Shandong.
OBJECTIVE: To observe the clinical effect of Pifubing Xuedu Wan combined with Diyin Tablet (DYT) in treating patients with psoriasis. METHODS: Sixty patients were divided into 2 groups by randomized controlled method. DYT was orally taken by all patients, while Pifubing Xuedu Wan was given additionally to patients in the treated group, the medication was continued for 1 month. The therapeutic effect, toxic and adverse reaction were observed. RESULTS: In the treated group, 7 patients were cured, 11 basically cured, 4 markedly effective, 7 improved, and 1 ineffective, with the clinical cured rate of 60.0% and the total effective rate 73.3%. In the control group, 3 were cured, 4 basically cured, 9 markedly effective, 10 improved, and 4 ineffective, with the clinical cured rate of 23.3% and the total effective rate 53.3%. No significant difference was shown in comparison of the total effective rate between the two groups (chi2 = 0.27, P > 0.05), however, significant difference was shown in comparison of the clinical cured rate (chi2 = 6.48, P < 0.05) between them. The toxic and adverse reaction in the treated group was obviously lower than those in the control group (t = 5.27, P <0.05). CONCLUSION: DYT combined with Pifubing Xuedu Wan in treating psoriasis shows better therapeutic effect, with quicker initiation, lesser toxic and adverse reaction, and higher efficacy than using DYT alone.
This is the page of Chinese medicine, you can buy Pifubing Xuedu Wan online here.