Chinese medicine provides and effective solution for allergies treatment. Allergic reaction is a hypersensitive of the body which is acquired by a person upon exposure to a particular allergen, such as plants, animal danders, pollution etc. Symptoms can be mild and severe, including sneezing, headache, coughing, running nose, nosebleeds, itching.

When allergy reason is about to arrive, it is important to get a jump on the symptoms which they will surely follow. While not all remedies are equally effective with all persons, you can probably find a remedy effective for you. These Chinese herbs can be effective for allergies treatment:

- Rhei rhizoma, Rhubarb or Da Huang in Chinese
This herb traditionally believed to cool the bolld and remove stagnation while dispersing stagnant blood.

- Radix ledebouriellae, Siler or Fang Feng
Traditionally is said to dispel dampness and reduce wind.
Pharmacologically, has an antipyretic, antibacterial and antiviral effect.

The following Traditional Chinese medicines can be effective for allergies treatment.



Chinese Medicine Category
Recommended Product
XinYi Biyan Wan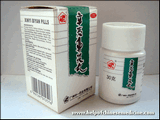 $2.95
Xin Yi Bi Yan Wan
is a traditional Chinese medicine which helps promote a healthy nasal system and allows you again to enjoy effortless breathing.
It is helpful for allergic rhinitis, chronic rhinitis dispelling wind and clearing heat, diminishing inflammation and resolving toxin.
Dosage: take 30-50 pills (3 grams) 3 times a day, contains 30 grams
Manufacturer: Guangzhou Zhongyi
Read more...
Bi Yan Pian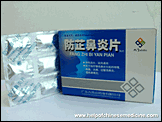 $5.95
Bi Yan Pian
is a commonly recommended herbal medicine by Chinese doctors to help relieve nasal or sinus congestion as in the common cold, allergies, rhinitis, and sinusitis. It is one of the more popular over-the-counter medicines and can be used for treatment of allergies. Bi Yan Pian is a Chinese Medicine whose formula is thought to be based on Xanthium Powder as described in "Formulas to Aid the Living" (Ji Sheng Fan) by Dr. Yan Yong-He in 1253AD. Dosage: one time 5 tablets, 3 times per day, contains 36 tablets Manufacturer: Guang Dong Jiu Lian Shan Pharmaceutical Co
Read more...
Chinese medicine for allergy research
Traditional Chinese herbal remedies for asthma and food allergy
Xiu-Min Li MD, a,
From the Department of Pediatrics, Mount Sinai School of Medicine
The increasing prevalence of allergic diseases in Westernized countries is a significant health problem. Curative therapies for these diseases are not available. There are also significant concerns regarding the potential side effects from the chronic use of conventional drugs such as corticosteroids, especially in children. Many patients with chronic allergic conditions seek complementary and alternative medicine therapies including traditional Chinese medicines. This trend has begun to attract interest from mainstream health care providers and scientific investigators and has stimulated government agencies in the United States to provide support and guidance for the scientific investigation of complementary and alternative medicine. This effort may lead to improved therapies and better health care/patient outcomes. This review presents an update on the most promising Chinese herbal medicines for asthma and food allergy.
The treatment of allergies using Sanfujiu: A method of applying Chinese herbal medicine paste to acupoints on three peak summer days. (Chinese medicine for allergy)
Tai CJ, Chien LY.
Department of Traditional Chinese Medicine, Taipei Medical University Hospital, Taipei, Taiwan.
Sanfujiu is a method of applying herbal drug paste onto acupoints Fengmen and Feishu during the 3 hottest summer days, to treat patients with allergies using traditional Chinese medicine. The objectives of this study were to describe the immediate reactions (adverse effects and perceived efficacy) to the Sanfujiu treatment, and examine the variations in the prevalence of the reactions to and perceived efficacy of Sanfujiu among different sub-groups, based on patient age and diagnosis. The study subjects included 119 patients who completed Sanfujiu treatment at a regional hospital in Taipei. One week after treatment, trained interviewers conducted telephone interviews with the patients. More than 80% of the patients reported having reactive symptoms after using the Sanfujiu treatment. Younger subjects (< or = 16 years of age) were more likely to have reactive symptoms. Patients with rhinitis were more likely to have runny noses and nasal congestion after the treatment. Patients with allergic eczema were more likely to have skin itching all over the body. Overall, 44.6% of patients perceived the treatment as being effective, while 52.1% of patients did not notice any effects, either good or bad, from the treatment. The perceived efficacy of Sanfujiu treatment was not related to patient age, sex, or diagnosis. This study demonstrated that Sanfujiu treatment was moderately effective, as perceived by the patients, in treating their allergic symptoms immediately after the treatment. Symptoms reactive to the treatment were common but are usually mild. This information is essential for patient consultation, and serves as a reference for clinicians.