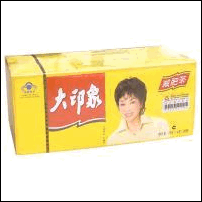 $17.95
Chinese name:
Da Yin Xiang Jian Fei Cha (dayinxiang tea), Great Impression Weight Reducing Tea or Great Image Weight Reducing Tea, also known as Dayinxiang Jianfei Tea or ¤j¦L¶H´îªÎ¯ù
Ingredients:
Tea Leaves, Fiveleaf Gynostemma Herb, Sea-ear Shell, Grosvenori Siraitia, Senna Leaf, Honeysuckle Flower
Functions:
Reducing weight, decreasing lipids in blood, preventing acquired simple obesity in human body
Dosage:
A sachet of the tea is soaked in approx 170ml of boiled water for 5-10 minutes, this can be done for two times in a row. At first, it is most appropriate to drink before sleeping, one sachet every evening in the first week, each in the morning and evening from the second week, and 45 days is the course of use.
Keep out of reach from children.
Do not use during pregnancy.
The net weight is 28g, 1.4g* 20 sachets per box
Manufacturer:
Shantou Great Impression Group
Description:
Probably the best weight loss chinese tea product appeared on the market. Great Impression Weight Reducing Tea was awarded the first place for the volume of sales in China in of health tea products category. Da Yin Xiang Jian Fei Cha is effectively reducing weight, decreasing lipids in blood, preventing acquired simple obesity in human body.
Surgical solutions to the problem of massive weight loss
In response to the global rise in obesity, bariatric surgery has become increasingly more popular and successful.As a result, the demand for body contouring following massive weight loss is rapidly growing. Although bariatric procedures may produce impressive weight loss, people who achieve massive weight loss are often unhappy with the hanging folds of skin and subcutaneous tissue that remain. This review examines the nature of the post-bariatric deformity in each body region and briefly reviews common approaches to their treatment. The effect of various tea and tea polyphenols on weight loss and weight maintenance
Foreign Medical Sciences(Section of Medgeography) 2007
Evaluation of several ways for weight loss 2001
The main way of weight loss is diet control, exercise, drug administration and behavior modification. And each way has its different content and effect. This paper summarized different content and effect of these several ways of weight loss.
Treatment and prevention effects of weight loss on obese patients with nonalcoholic fatty liver disease.
Supplemental products used for weight loss.
Lenz TL, Hamilton WR.
Department of Pharmacy Practice, School of Pharmacy Creighton University Medical Center, Omaha, NE 68178, USA. OBJECTIVE: To review the scientific literature on several dietary supplements and herbal products commonly promoted for weight loss. DATA SOURCES: Recently published articles and abstracts identified through PubMed (May 1987-May 2003), MEDLINE (January 1966-May 2003), International Pharmaceutical Abstracts (January 1970-May 2003), and Natural Medicines Comprehensive Database (January 1995-May 2003) using the search terms supplement, herbal, weight loss, obesity, overweight, conjugated linoleic acid, ephedra, ephedrine, chromium, Garcinia cambogia, hydroxycitric acid, chitosan, and pyruvate. STUDY SELECTION: Performed manually by the authors. DATA EXTRACTION: Performed manually by the authors. Only single-agent, randomized, blinded, controlled studies with sufficient scientific rigor in overweight or obese subjects were included. DATA SYNTHESIS: Approximately 50 individual supplemental products and hundreds of combination products are promoted for weight loss. As a result, much confusion exists among health care professionals regarding the efficacy and safety of these products. Results for conjugated linoleic acid were positive in three clinical studies, with few adverse effects. Ephedra has been shown to be effective in promoting weight loss, especially when combined with caffeine, but it has a high adverse effect risk profile. The data regarding ephedra and ephedra combinations are conflicting, and many of the studies were poorly designed. Garcinia and chitosan have not shown much promise for weight loss, but little research has been done. Pyruvate has consistently shown positive weight loss effects. CONCLUSION: Overall, herbal products and dietary supplements promoted for weight loss lack sufficient supporting efficacy and safety data. More research is needed to draw definitive conclusions. Conjugated linoleic acid and pyruvate have the best supporting evidence, but larger and better-controlled trials are needed before pharmacists should recommend these agents to patients seeking to lose weight.
Inhibition of fatty acid synthase by polyphenols.
Tian WX.
Department of Biology, Graduate University of Chinese Academy of Sciences, Beijing 100049, P.R. China.
Recently, animal fatty acid synthase (FAS) is reported as a potential therapeutic target for obesity and cancer. Considerable interest has been developed in identifying novel inhibitors of the enzyme. It is found that tea polyphenols inhibit FAS in both reversible and irreversible manners. Epigallocatechin gallate (EGCG) and epicatechin gallate (ECG) inhibit FAS with IC(50) values of 52 microM and 42 microM mainly by reacting on the beta-ketoacyl reductase (KR) domain of FAS. The inhibitory ability of catechin gallate (CG) is 15 and 12 folds higher than that of EGCG and ECG. Its major reacting site on FAS is not KR. All of these irreversibly inactivate FAS on the KR domain with similar rates. Mulliken population analysis suggests that the positive charge is distributed on the carbon atom of galloyl ester, and this carbon becomes more susceptible for a nucleophilic attack. 12 flavonoids inhibit FAS with IC(50) values ranging from 2 to 112 microM. SAR analysis shows that the flavonoids containing two hydroxyl groups in B ring and 5, 7-hydroxyl groups in A ring with C-2, 3 double bond are the most potent inhibitors. The inhibition kinetics shows that they inhibit FAS competitively with acetyl CoA and most likely react mainly on acyl transferase domain. Further studies show that C ring of flavonoids is not necessary for the inhibition. Resveratrol, phlorizin and NDGA contain two phenyl rings connected by 2 to 4 atom chains instead of C ring. Their IC(50) values range from 5 microM to 40 microM. From these results, a common model for polyphenol inhibitor of FAS is conceived.
This is the page of Chinese tea for weight loss, you can also buy Da Yin Xiang Jian Fei Tea(dayinxiang tea) online here.