Pian Zi Huang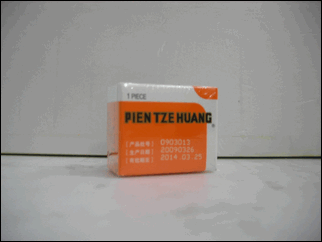 $39.95
Chinese name:
Pian Zi Huang, Zhangzhou Pian Zi Huang, Pien Tze Huang
Ingredients:
Climbing Gentian, Reishi, Notoginseng, Sarcandra
Indications:
Used for acute or chronic hepatitis, tympanitis, gum abscess, oral ulcer, bee sting, snake bite, nail-like boil and innominate inflammatory swelling.
Functions:
Clearing away heat and toxic materials, relieving swelling and pain.
Manufacturer:
Zhanzhou Pian Zi Huang Group
Description:
Chinese have used traditional herbal formulas to maintain healthy functions within the body. Pian Zi Huang combines the knowledge of this traditional herbal study with modern scientific principles. Today this product is recognized throughout Southeast Asia as an herbal formula that maintains healthy liver function.
We can guarantee that the natural products from ShenYi Center of Chinese Medicine are 100% authentic and our prices are competitive in comparison to other herbal stores.

We ship via Hong Kong post.
Paypal and credit cards accepted. Most of the orders areshipped within 24 hours.

Please contact us for any enquiries:
info (at) helpofchinesemedicine.com


Chinese Medicine Category
Pian Zi Huang Medicine Researches
A HPLC and pressurized liquid extraction (PLE) method was developed for simultaneous determination of nine saponins, including notoginsenoside R1, ginsenoside Rg1, Re, Rf, Rb1, Rc, Rb2, Rb3 and Rd in Panax notoginseng (Pian Zi Huang). The analysis was performed on C18 column with water–acetonitrile gradient elution and the investigated saponins were authenticated by comparing retention time and mass spectra with their reference compounds. Several methods including PLE, ultrasonication, soxhlet extraction and immersion were used for sample preparation and their extraction efficiency was compared (Pian Zi Huang). The results showed that PLE has the highest extraction efficiency and repeatability, which would be valuable on standardization of sample preparation for quality control of Chinese medicines. The developed HPLC and PLE is an effective approach for simultaneously quantitative determination of sapoinins in P. notoginseng, which could be used for quality control of P. notoginseng and its preparations of Pian Zi Huang. An ultra performance liquid chromatography coupled with tunable UV detector (UPLC-TUV) and rapid resolution liquid chromatography coupled with time-of-flight tandem mass spectrometry (RRLC-Q-TOF) method was developed for the quality assessment of Niu Huang Jie Du Pill (NHJDP), a commonly used traditional Chinese medicine (TCM). Ten compounds were simultaneously identified by electrospray ion mass spectrometry (ESI/MS) and comparison with reference standards and literature data. All of them were quantified by UPLC method. Baseline separation was achieved on an ODS-140HTP C18 column (2.3 μm, 100 mm × 2.1 mm I.D.) with linear gradient elution of acetonitrile–0.1% formic acid.
This is the page of Chinese medicine Pianzihuang, you can buy Pian Zi Huang online here.