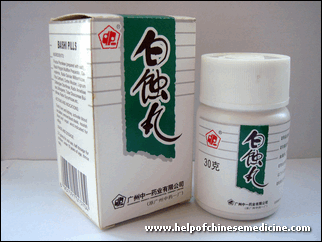 $9.95
Chinese name:
Bai Shi Wan, Vitiligex
Ingredients:
Fructus Psoraleae, Radix Polygoni Multiflori Preparata, Ganoderma, Radix Salviae Miltiorrhizae, Flos Carthami, Cortex Moutan
Indications:
Vitiligo
Functions:
Tonify liver and kidney, activate blood circulation, remove blood stasis, nourish blood and expel wind, enhancing immunological function, increase absorption of ultraviolet rays in skin and mucous membrane, promote pigmentation.
Dosage:
2.5 grams (about 20 pills), 3 times per day, please read the instruction before use
Manufacturer:
Guangzhou Zhongyi
Description:
Bai Shi Wan is used for vitiligo, a common chronic dermatosis, for which there is no specific remedy, either traditional or western medicine. This product has been appraised by experts and is considered as a novel remedy for vitiligo. The de-pigmentation, especially localized and short-term, may be controlled after continuous administration of the pills for 2 to 3 months. Pharmacological study reveals no side and toxic effects.
Effects of traditional Chinese medicine compounds for treating vitiligo on mushroom tyrosinase activity in vitro
In order to investigate the effect of traditional Chinese medicines (TCMs) on tyrosinase activity and provide experimental evidence for treating vitiligo, tyrosinase activity was estimated by measuring the rate of oxidation of DLúQ dopa. The findings showed that the tyrosinase activity increased in determining Vitilito Wan, Baibo Pian, Chaihu Shugan Tang and Baishi Wan(P< 0.01). While Vitiligo Wan components were tested, they all could activate the tyrosinase, and in orderof tyrosinase activity level increased they were Psoralea corylifolia L.(?°©¯×), Tribulus terrestris L.(¨ëã°òÔ ),Angelica sinensis(Oliv.) Diels(?? ) and Kochia scoparia(L.) Schrad(¦a?¤l). These data revealed that the levelsof tyrosinase activity were induced by Baibo Pian, Vitiligo Wan, Chaihu Shugan Tang, Baishi Wan, and Vitiligo Wancomponents.
This is the page of Chinese medicine for skin infections.