Ma Xing Zhi Ke Pian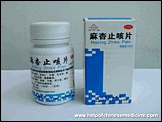 $3.95
Ma Xing Zhi Ke Pian
is a powerful herbal medicine that treat cough, bronchitis and asthma. The results of herbal therapy range from a complete remission of the disease to a much less frequent use of inhalers.
Ma Xing Zhi Ke Pian can also be used for cough due to heat, with sore throat, dry loud cough, or swollen glands.
Dosage:one time 3 tablets, 3 times per day
Contains 100 tablets
Manufacturer: Guangzhou Hua Cheng brand
Read more...
Chuan Bei Pi Pa Gao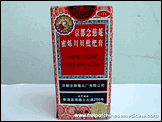 $5.95
Chuan Bei Pi Pa Gao
is a blend of 15 herbal ingredients, it helps to relieve cough and sore throat associated with common cold, influenza or similar ailments.
This soothing syrup is appropriate in cases of lung dryness that is due to wind heat, colds, or smoking. Dosage: one table spoon a time, three times a day, bottle contains 75 ml
Manufacturer: Nin Jiom (Hong Kong)
Read more...
Effects of Chinese herbs for replenishing shen and strengthening qi on some indexes of neuro-endocrino-immune network in asthmatic rats
Zhao FD, Dong JC, Xie JY.
Lab of Integrative Medicine for Lung, Inflammation and Cancers, Huashan Hospital, Fudan University, Shanghai.
OBJECTIVE: To study changes of several related indexes of neuro-endocrino-immune (NEI) network in rat asthma model, and to observe effects of epimedium herb (EH, Chinese medicine for coughs) and milkvetch root (MR, a Chinese herb for strengthening qi) on these indexes. METHODS: One hundred and twenty male healthy Brown Norway rats of clean grade were randomly divided into 11 groups. Their mRNA expression of corticoid release hormone (CRH) in hypothalamus was tested by Realtime-PCR, serum ACTH and CORT, IL-6, IL-4, IFN-gamma were detected with radioimmunoassay and enzyme-linked immunosorbent assay respectively and pathological changes of lung tissue were observed with hematoxylin and eosin stain. RESULTS: As compared with the normal group, mRNA expression of CRH in hypothalamic tissue, plasma ACTH and serum concentration of IFN-gamma not changed significantly, but serum level of CORT raised significantly and the pre-inflammatory factors IL-6 and IL-4 showed an increasing trend in the model rats. As compared with the model group, level of CRH mRNA expression in groups treated with low dose and moderate dose of both EH and the formula (HE and MR), IFN-gamma in group treated with moderate dose of EH and serum CORT in group treated with low dose of MR were higher, and serum levels of IL-4 and IL-6 in groups treated with high dose of MR were lower. CONCLUSION: Rats suffered from repeated asthmatic attack for three weeks had some disorders in indexes of NEI network. Chinese herbs for replenish Shen and strengthening qi could improve the function of hypothalamic-pituitary-adrenal axis and adjust the balance of Th1 and Th2 cytokines, which might be one of the mechanisms of Chinese herbs for treatment of repeated asthma attack.
Here you can buy Chinese medicine for chronic coughs, asthma, bronchitis online