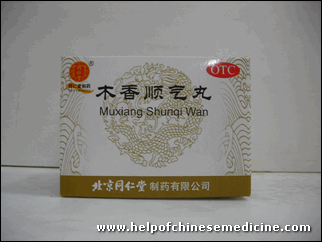 $6.95
Chinese name:
Mu Xiang Shun Qi Wan (moo shahng shuhn chee wahn) Saussurea Qi-Regulating Pills
Ingredients:
Aucklandia root, Alpinia Oxyphylia seed, Medicinal Evodia fruit, Tang Kwei root, Atractylodes rhizome, Buybane rhizome, Magnolia bark, Katsumadau Galangal, Tangerine peel, Tuckahoe root, Hare's Ear root, Pinellia tuber
Indications:
Food stagnation, indigestion, diarrhea, flatulence, belching, abdominal distension and poor digestion
Functions:
Regulates stagnant qi in the digestive organs, relieves pain in the stomach and intestines, disperses food stagnation
Dosage:
Contains 6g * 12 sachets
Contraindicated for very weak people with dry cough or stomach ulcers, and during pregnancy
Manufacturer:
Tongrentang
Description:
Mu Xiang Shun Qi Wan recommended to improve weak digestion, is helpful for chronic poor appetite, chest discomfort and abdominal cramps. Even in simple cases of fullness, such as after eating too much or too fast, Mu Xiang Shun Qi Wan can be effective.

Used along with Huang Lian Su, Mu Xiang Shun Qi Wan can be very helpful for traveler's diarrhea and gastrointestinal disorders. It helps promote the flow of vital energy both in the stomach and the intestines, thereby relieving pain and distention and stopping diarrhea.

Also useful for food stagnation due to cold food or drink, or to improper eating habits such as sleeping after a meal.
This formula has other positive effects in the stomach as well: It contains ginger to relieve nausea and vomiting, radish seed and hawthorn berry to move stagnant food out of the stomach, and citrus peel and barley sprouts to strengthen stomach function.
In vitro anti-Helicobacter pylori action of 30 Chinese herbal medicines used to treat ulcer diseases.
Li Y, Xu C, Zhang Q, Liu JY, Tan RX.
Institute of Functional Biomolecules, State Key Laboratory of Pharmaceutical Biotechnology, Nanjing University, Nanjing 210093, PR China.
Infection by Helicobacter pylori has been ascertained to be an important etiologic impetus leading usually to chronic active gastritis and gastric ulcer with growing incidences worldwide. Utilizing as the test pathogen a standard and five clinic strains of Helicobacter pylori, the antibacterial action was assessed in vitro with ethanol extracts of 30 Chinese herbal medicines which have been frequently prescribed since ancient times for treating gastritis-like disorders. Among the 30 tested materials, the ethanol extracts of Abrus cantoniensis (Fabaceae), Saussurea lappa (Asteraceae) and Eugenia caryophyllata (Myrtaceae) were strongly inhibitory to all test strains (MICs: approximately 40 microg/ml), and Hippophae rhamnoides (Elaeagnaceae), Fritillaria thunbergii (Liliaceae), Magnolia officinalis and Schisandra chinensis (Magnoliaceae), Corydalis yanhusuo (Papaveraceae), Citrus reticulata (Rutaceae), Bupleurum chinense and Ligusticum chuanxiong (Apiaceae) substantially active with MICs close to 60.0 microg/ml. As to antibacterial actions of the aqueous extracts of the same drugs, those derived from Cassia obtusifolia (Fabaceae), Fritillaria thunbergii and Eugenia caryophyllata were remarkably inhibitory against all the six Helicobacter pylori strains (MICs: approximately 60 microg/ml). The work compared almost quantitatively the magnitude of the anti-Helicobacter pylori actions of the 30 most prescribed gastritis-treating Chinese herbal drugs, and located as well some source plants where potent anti-Helicobacter pylori phytochemicals could be characterized.
Pharmacokinetic and pharmacological interactions between ticlopidine hydrochloride and Kangen-Karyu - Chinese traditional herbal medicine.
Makino T, Wakushima H, Okamoto T, Okukubo Y, Deguchi Y, Kano Y.
Department of Kampo Medicinal Science, Hokkaido College of Pharmacy, 7-1 Katsuraoka, Otaru 047-0264, Japan
Kangen-Karyu (KGK), containing peony root, cnidium rhizome, saf flower, cyperus rhizome, saussurea root and Salvia miltiorrhiza root, is a Chinese traditional medicine formula to invigorate the 'blood' and dispel 'blood stasis', arising from poor blood circulation. The present study evaluated the pharmacokinetic and pharmacological interactions between KGK and ticlopidine hydrochloride. Ticlopidine was administered orally or intravenously to KGK-treated rats, and its plasma concentrations were measured. KGK did not significantly affect the pharmacokinetic parameters of ticlopidine in rats treated with both oral and intravenous administration. Ticlopidine alone significantly prolonged the mouse tail-bleeding time and adenosine 5'-diphosphate-induced ex vivo platelet aggregation, which was slightly augmented by KGK. It is suggested that the combined therapy of ticlopidine and KGK may augment the antithrombotic effects, and that the dosage of ticlopidine should be reduced to prevent thrombotic thrombocytopenic purpura, a severe adverse effect of ticlopidine.
Bioactive constituents from Chinese natural medicines. XV. Inhibitory effect on aldose reductase and structures of Saussureosides A and B from Saussurea medusa.
Xie H, Wang T, Matsuda H, Morikawa T, Yoshikawa M, Tani T.
Kyoto Pharmaceutical University, Japan.
The 80% aqueous acetone extract from the whole plant of Saussurea medusa MAXIM. was found to inhibit rat lens aldose reductase (IC50=1.4 microg/ml). From this extract, flavonoids, lignans, and quinic acid derivatives were isolated together with two new ionone glycosides, saussureosides A and B. Their absolute stereostructures were elucidated on the basis of chemical and physicochemical evidence including the application of modified Mosher's method. In addition, some isolates were found to show an inhibitory effect on aldose reductase.
This is the page of Chinese medicine for stomach problems, you can buy Mu Xiang Shun Qi Wan online here.