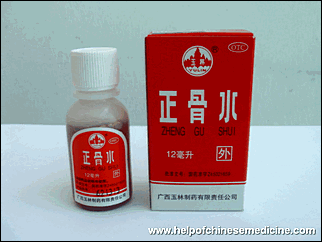 $1.95
Chinese name:
Zheng Gu Shui (juhng goo shway) Setting Bone Liquid, External Analgesic Lotion
Indications:
Traumatic injuries, bruises, sprains
Functions:
Relieves blood stagnation, promotes healing, stops pain
Dosage:
Apply Zheng Gu Shui twice daily to the affected area with a cotton ball and leave it to dry. Wrap the affected area with gauze.
Manufacturer:
Guangxi Yulin brand
Description:
This highly effective liniment can be used for all sorts of injuries; however, its specialty is to reduce pain and promote healing of broken bones. If the skin is not broken, it can be applied topically to the area of injury to relieve pain until the bone is set at the hospital.

Caution: Do not use Zheng Gu Shui on open wounds. Some people experience a skin reaction from liniments; discontinue use immediately if a reaction develops. Avoid exposing the treated area to sun to avoid irritation. Wash hands thoroughly after applying. This patent is for external use only. Keep tightly closed and out of reach of children. Do not use Zheng Gu Shui near an open flame as it is flammable.