Bishushi Pian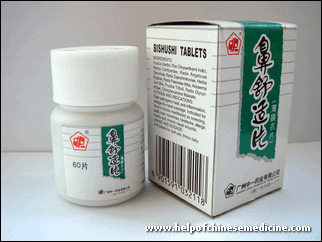 $6.95
Chinese name:
Bishushi Pian
Ingredients:
Fructus Xanthili, Flos Chrysanthemi Indici, Herba Centipedae, Radix Angelicae Dahuricae
Indications:
Chronic rhinitis manifested as sneezing, stuffy nose, rhinorrhea, headache, allergic rhinitis and chronic nasalsinusitis.
Functions:
Clears pathogenic heat, anti-inflammation, dredges the nasal passage.
Dosage:
take 4-5 tablets per time, 3 times a day, contains 60 tablets
Manufacturer:
Guangzhou Zhongyi
Description:
Bi Shu Shi Pian is used for chronic rhinitis.
We can guarantee that the natural products from ShenYi Center of Chinese Medicine are 100% authentic and our prices are competitive in comparison to other herbal stores.

We ship via Hong Kong post.
Paypal and credit cards accepted. Most of the orders areshipped within 24 hours.

Please contact us for any enquiries:
info (at) helpofchinesemedicine.com


Chinese Medicine Category
Bishushi Pian Medicine Researches
Objective To establish the content determination of Paeoniflorin in Bishushi tablet.Methods HPLC was performed to determine on ODS column,the mobile phase consisting of 0.025mol/L potassium dihydrogen phosphate and acetonitrile¡]89:11¡^,and its detection wavelength at 230nm.Results Paeoniflorin showed a good linear relationship in the a range of 0.07976¡ã3.988μg,γ = 0.9999. The average recovery was 100.2¢H and RSD was 2.7¢H.Conclusion The established method are accurate,reproducible and can be used for the quantitation control of Bishushi tablet.
Bishushi tablet¡FPaeoniflorin¡FHPLC