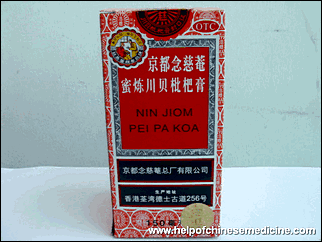 $5.95
Chinese name:
Chuan Bei Pi Pa Gao (chwahn bay pee pah gow), Nin Jiom Pei Pa Koa Fritillaria Loquat Syrup
Indications:
Cough due to lung heat or dryness, with phlegm that is difficult to expectorate; a dry cough with no or little phlegm
Functions:
Clears lung heat, moistens the lungs, stops coughing
Dosage:
one table spoon a time, three times a day, bottle contains 75 ml
Manufacturer:
Nin Jiom (Hong Kong)
Description:
Chuan Bei Pi Pa Gao is a blend of 15 herbal ingredients, it helps to relieve cough and sore throat associated with common cold, influenza or similar ailments. This soothing syrup is appropriate in cases of lung dryness that is due to wind heat, colds, or smoking.
The Chinese herbal medicine formula MSSM-002 suppresses allergic airway hyperreactivity and modulates TH1/TH2 responses in a murine model of allergic asthma
Xiu-Min Li MDaa, Chih-Kang Huang MSaa, Teng-Fei Zhang PhDaa, Ariel A. Teper MDaa, Kamal Srivastava BSaa, Brian H. Schofield JDba and Hugh A. Sampson MDaa
Background: Asthma is a major public health problem worldwide, and the morbidity and mortality of asthma have increased in the past two decades. The reputed efficacy, low cost, and relative absence of side effects of traditional Chinese medicines (TCMs) have led to increasing interest in the use of TCMs for the treatment of asthma in Western countries. However, there are few well-controlled scientific studies on the efficacy, safety, and mechanisms of action of TCMs used to treat asthma. Objective: The goal of this study was to investigate the effects of the Chinese herbal medicine formula MSSM-002, derived from TCMs used to treat allergic asthma, on a well-characterized mouse model of allergic asthma. Methods: Mice sensitized intraperitoneally and challenged intratracheally with conalbumin were treated with MSSM-002 24 hours after the first intratracheal challenge. Dexamethasone-treated, saline solution sham-treated, and naive mice served as controls. The effects of MSSM-002 on allergic airway hyperreactivity, inflammation, antigen-specific antibody production, lung histologic features, and cytokine profiles were evaluated. Results: MSSM-002 treatment virtually eliminated airway hyperreactivity and markedly reduced the total number of cells and the percent eosinophils in bronchoalveolar lavage fluids compared with the sham-treated group. Lung histologic features showed that MSSM-002 reduced inflammation and mucus production. These effects were equivalent to the effects of dexamethasone, but in contrast to the overall immunosuppressive effects of dexamethasone MSSM-002 treatment decreased antigen-specific IgE, IL-4, IL-5, and IL-13 levels without suppressing IgG2a and IFN-γ synthesis. Conclusion: MSSM-002 exhibits anti–airway hyperresponsiveness, anti–airway inflammation, and immunoregulatory effects on TH1/TH2 responses, which may be useful for treatment of allergic asthma. (J Allergy Clin Immunol 2000;106:660-8.)
Comparison of the Content of Peimine in Chuanbeipipa Syrup Produced by Different Factories TLCS for the determination of imperialine in Chuanbei Pipa syrup
Treatment of Radiation Esophagitis by Niancian' s Chuanbei Pipa Gao Combined with Yunnan Baiyao: A Clinical Observation of 32 Cases
Revised Standard of Milian Chuanbei Pipa Concentrated Decoction in Pharmacopoeia of the People's Republic of China 2005 Edition ( I )
Determination of Hesperidin in the Chinese Patent Medicine of Milian Chuanbei Pipa Gao by HPLC Combined with Solid -phase Extraction
Study on Quality Standard for Chuanbei Pipa Syrups
2005 Huang Jingfang , Lin Meiqing
Tlc scanning for the determination of imperialine in Chuanbei Pipa Buccal Tablets
Chinese medicinal herbs for acute bronchitis.
Wu T, Chen X, Duan X, Juan N, Liu G, Qiao J, Wang Q, Wei J, Zhen J, Zhou L.
Chinese Cochrane Centre, Chinese Evidence-Based Medicine Centre & Regional Clinical Epidemiology Resource & Training Centre, West China Hospital, Sichuan University, No. 37, Guo Xue Xiang, Chengdu, Sichuan, China, 610041.
BACKGROUND: Acute bronchitis is one of the most common diagnoses made by primary-care physicians. It is traditionally treated with antibiotics, (although the evidence for their effectiveness is weak and modest at best), and other even less effective treatments. Chinese medicinal herbs have been also used as treatment. OBJECTIVES: This review aims to summarise the existing evidence on the comparative effectiveness and safety of Chinese medicinal herbs for treating uncomplicated acute bronchitis. SEARCH STRATEGY: We searched the Cochrane Central Register of Controlled Trials (CENTRAL) (The Cochrane Library Issue 1, 2005), which includes the Cochrane Acute Respiratory Infections Group's specialised register; The Chinese Cochrane Centre's Controlled Trials Register (up to December 2004); MEDLINE (1966 to March Week 1, 2005); EMBASE (1988 to December 2004); and the Chinese Biomedical Database (CBM) (1980 to December 2004). SELECTION CRITERIA: Randomised controlled trials comparing Chinese medicinal herbs with placebo, antibiotics or other Western medicines for the treatment of uncomplicated acute bronchitis. DATA COLLECTION AND ANALYSIS: At least two authors extracted data and assessed trial quality. MAIN RESULTS: Four trials reported the time to improvement of cough, fever, and rales associated with bronchitis and showed that patients treated with Chinese herbs had a shorter duration of signs and symptoms. Two trials reported the proportion of patients with improved signs and symptoms at follow up and showed that Chinese herbs were beneficial in terms of relief of signs and symptoms. Thirteen trials analysed the data on physician global assessment of improvement at follow up. Nine of thirteen trials showed that Chinese herbs were superior to routine treatment and the other four trials showed a similar effect to routine treatment. In general, Chinese herbs appeared beneficial. Only one trial reported on adverse effects during treatment. AUTHORS' CONCLUSIONS: There is insufficient quality data to recommend the routine use of Chinese herbs for acute bronchitis. The benefit found in this systematic review could be due to publication bias and study-design limitations of the individual studies. In addition, the safety of Chinese herbs is unknown due to the lack of toxicological evidence on these Chinese herbs, though adverse events are rarely reported. Chinese herbs should be used carefully.
This is the page of Chinese medicine for coughs, you can buy Chuan Bei Pi Pa Gao online here.