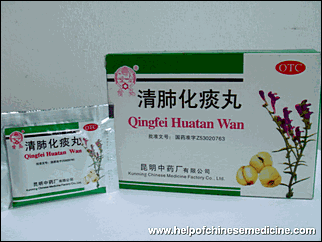 $4.95
Chinese name:
Qing Qi Hua Tan Wan, Qingfei Huatan Wan (ching fei hwah tahn wahn), Respira Herb Tea Extract
Ingredients:
Sichuan fritillary bulb, Platycodon root, Apricot seed, Tangerine dried rind, Chinese licorice root, Radish seed
Indications:
Cough due to heat, with yellow or green phlegm, lung heat cough, phlegm panting, phlegm-drool congestion
Functions:
Clears lung heat, expels phlegm, stops cough
Dosage:
one time 1 packet, 2 times a day with warm water, contains 10 x 0.21oz (6g) packets
Manufacturer:
Kunming Chinese Factory Co.
Description:
Qing Qi Hua Tan Wan is used to treat coughs due to heat, lung cough. This formula eliminates mucus from the lungs and prevent infection. You can use it if you suffer from bronchitis due to heat, no cold.

Qing Qi Hua Tan Wan is a Chinese Medicinal Formula which clears heat from the lungs. It was originally listed in the "Investigation of Medical Formulas" (Yi Fang Kao) by Dr. Wu Kun in 1584AD.
Simultaneous determination of hespefidin and baicalin in Qing qi Hua tan Pill by HPLC
2005 YU Yan , JIAO Hai-sheng , MA Li-xing
Effect of Lung clearing and Phlegm removing Herbal Medicine Combined with Positive pressure Noninvasive Ventilation on Respiratory Failure Patients with Chronic Obstructive Pulmonary Diseases
ZHANG Yu,LI Jianying,DENG Yiqi,ZHANG Zhongde,JIANG Junshan,ZHANG Wenqing,XU Huicong
(The Second Affiliated Hospital,Guangzhou University of TCM,Guangzhou 510120,China)
¡iObjective¡jTo observe the therapeutic effect of herbal medicine mainly with the actions of clearing lung and removing phlegm on type ¢º respiratory failure patients with acute exacerbation of chronic obstructive pulmonary diseases receiving positiveúQpressure noninvasive ventilation.
This is the page of Chinese medicine for coughing, lung heat, you can buy Qing Qi Hua Tan Wan wholesale online here.