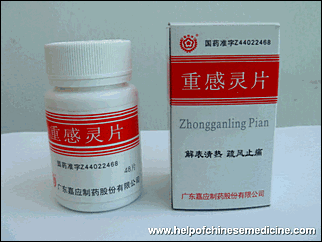 $3.95
Chinese name:
Zhong Gan Ling Pian (jung gahn ling) Serious Cold Remedy
Ingredients:
Ilex pubescens root, Pueraria lobata root, Verbena officinalis herb, Isatis indigotica root, Artemisia annua herb, Gypsum fibrosum mineral, Notopterygium incisium root
Indications:
Wind heat flu-like symptoms -- high fever, sore throat, headache, nasal congestion, body aches, fever and chills
Functions:
Clears heat and toxins, drains dampness, relieves cold, releases muscles, relieves pain.
Dosage:
one time 6-8 pills, 3-4 times per day, contains 48 pills
Manufacturer:
Guangdong JiaYing Pharmaceutical Co.
Description:
Zhong Gan Ling is a time-tested herbal medicine that provides relief for high fever, pneumonia, and more by eliminating heat and toxins from the body. In China it is used for symptomatic relief of severe or advanced head cold or flu with symptoms such as headache, sore throat, nasal congestion, body aches, fever and chills.
Clinical Observations on Treatment of Cold with ZGL Tablet
Jilin Journal of Traditional Chinese Medicine 2003
Determination of Puerain Contents in ZGL Tablets by RP- HPLC
Chen Gang Chen Xijia Zhang Renxue Peng Yan
China Pharmaceuticals 2006
Methodlogy Validation Study of Microbial Limit Examination and Control Bacteria Examination of ZGL Tablets
Hebei Medicine 2007 Determination of Metamizole Sodium and Chlorphenamine Maleate in ZGL Tablets by Solid-Phase Extracting HPLC
This is the page of Chinese medicine for flu, common cold, high fever, you can buy Zhong Gan Ling Pian wholesale online here.