Hua Tuo Gao cream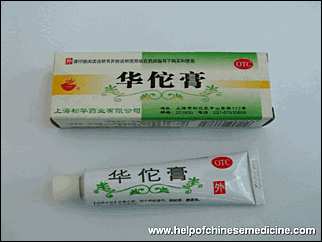 $4.95
Chinese name:
Hua Tuo (hwah twaw) Gao cream
Ingredients:
Chimonanthus Praecox-link Oil, Benzoin Resin, Cera Chinensis, Vaselinum
Indications:
Fungal infections, scabies, tinea pedis (athletes foot), ringworm, moist eczema, dermatitis with vesicles, crusting and itch.
Functions:
Antiparasitic, antifungal, disinfectant, antipruritic, eliminates toxin, stops itching.
Dosage:
Wash the affected area with warm water and apply twice daily Contains 8 gram
Manufacturer:
Shanghai Song Hua
Description:
Use for dermatitis, or eczema with superficial inflammation of the skin characterized by vesicles (when acute), redness, edema, oozing, crusting, scaling, itching.
We can guarantee that the natural products from ShenYi Center of Chinese Medicine are 100% authentic and our prices are competitive in comparison to other herbal stores.

We ship via Hong Kong post.
Paypal and credit cards accepted. Most of the orders areshipped within 24 hours.

Please contact us for any enquiries:
info (at) helpofchinesemedicine.com


Chinese Medicine Category
Hua Tuo Gao Medicine Researches
Chinese Herbal Medicine for Cancer Pain
Ling Xu, MD
Shanghai Changzheng Hospital, Second Military Medical University, Shanghai, China
Li Xing Lao, PhD
Center for Integrative Medicine, University of Maryland, Baltimore
Adeline Ge, MD
Department of Rehabilitation Medicine, Clinical Center, National Institutes of Health, Bethesda, Maryland
Shan Yu, PhD
Shanghai Changzheng Hospital, Second Military Medical University, Shanghai, China
Jie Li, PhD
Shanghai University of Traditional Chinese Medicine, Shanghai, China
Patrick J. Mansky, MD
National Center for Complementary and Alternative Medicine, National Institutes of Health, Bethesda, Maryland
Aim: The purpose of this review is to summarize and evaluate the current status of clinical research on the use of Chinese herbal medicine in treating cancer pain, with emphasis on the efficacy and safety of the applications. Method: A search of the clinical research published between 1986 and 2006 on the effects and applications of Chinese herbal medicine in cancer pain management was conducted using databases of CBM, CMCC, Wanfang, and Weipu (available since 1989) in Chinese and PubMed and EMBASE in English. We included only reports of original publications on cancer-induced pain, resulting in a total of 115 articles. We evaluated the methodological quality of the articles following the guidelines set forth as "Levels of Evidence of Human Studies of Cancer in Complementary and Alternative Medicine" by the National Cancer Institute. Results: Various methods of traditional Chinese medicine herbal treatment for cancer pain management have been reported. These methods include external application, oral administration, intravenous infusion, and other applications such as inhalation and clysmata. Forty-one of the 115 studies reviewed were randomized controlled clinical trials, most comparing the effects of Chinese herbal medicine to conventional analgesics and the others using placebo controls. These trials suggest that (1) Chinese medicine may be effective for cancer pain, and its effects are similar to those of Western analgesics; (2) Chinese medicine may reduce the side effects of conventional analgesics, thus enhancing cancer patients' quality of life; and (3) the various methods of application—topical, oral, and intravenous—are suitable to treat a range of pain conditions found in cancer patients. However, trials were of varying quality with respect to control group selection, dosing and side effect information, and outcome measures. Conclusion: The studies reviewed in this article suggest that Chinese herbal medicine may be useful for managing cancer pain, at least for short-term application. The products evaluated appear relatively safe, with no serious adverse effects reported. However, the quality of the published reports is variable. More research using rigorously controlled clinical trial design is warranted.
This is the page of Chinese medicine for skin infections, you can buy Hua Tuo Gao online here.