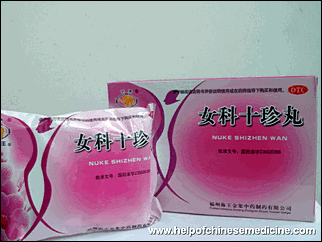 $7.95
Chinese name:
Nu Ke Ba Zhen Wan (noo keh bah jen wahn), Nuke Shi Zhen Wan, Women's Precious Pills; Gynecology Eight Treasure Pills
Indications:
Fatigue, dizziness, anemia, scanty menses, lack of appetite, irregular menstruation, painful menstruation, slight or no menstrual flow
Functions:
Tonifies qi and blood
Dosage:
10 packets, 1 packet per time, 2 times per day
Manufacturer:
Fuzhou Haiwang
Description:
Nu Ke Ba Zhen Wan is appropriate for a generalized deficiency of both qi and blood, so it is especially useful for women because of their monthly loss of blood during menstruation. It should be taken only after bleeding has subsided, not during the menstrual period.

Symptoms of deficiency of qi and blood include irregular menstruation, painful menstruation, slight or no menstrual flow, and weakness during pregnancy or the postpartum period. Clinical research on this formula in China demonstrated that this combination of herbs normalizes the blood count in cases of acute anemia.

Nu Ke Ba Zhen Wan is referred to as "Women's Precious Teapills" due to its longstanding reputation as an effective herbal formula created just for women. Millions of Chinese women have used this ancient herbal formula regularly to tonify the blood, replenish qi/energy, reduce fatigue and improve the appetite. Useful for dizziness, irregular menstruation, hypoglycemia, recovery from childbirth and illness.

Nu Ke Ba Zhen Wan (Ba Zhen Wan, Women's Precious Pills) was first described in the Yuan Dynasty (1279-1368AD) text Rui Zhu Tang Pharmacy's Formulas from Experience.
The effect of chinese medicinal herbs in relieving menopausal symptoms in ovariectomized chinese women.
Zhou J, Qu F, Nan R, Tang D.
College of Pharmaceutical Sciences, Zhejiang University, Hangzhou, People's Republic of China.
OBJECTIVE: The aim of this study was to explore the effect of a defined formula of Chinese medicinal herbs, GengNianAn (GNA, also called menopausal symptom-relieving formula) formula in relieving menopausal symptoms in ovariectomized women. DESIGN: A double-blind randomized placebo-controlled trial. METHOD: Between May 2003 and June 2006, 69 ovariectomized Chinese women were recruited to complete 12 weeks of intervention with either a defined formula of GNA (n = 36) or placebo (n = 33) taken twice daily as a beverage. Clinical symptoms were assessed by the modified Kupperman scale. The levels of venous blood serum follicle stimulating hormone (FSH), luteinizing hormone (LH), estradiol (E(2)), and the maturation index (MI) of vaginal epithelial cells were respectively measured. RESULTS: There existed significant differences between the two groups in the total Kupperman scoring, MI of vaginal exfoliative cells, and the levels of FSH, LH, and E(2) after treatment (P < .05). CONCLUSION: Chinese herbs may be a useful alternative treatment for ovariectomized women suffering from menopausal symptoms, who are unable or do not want to receive hormone replacement therapy (HRT).A randomised placebo-controlled trial of a traditional Chinese herbal formula in the treatment of primary dysmenorrhoea.
Yeh LL, Liu JY, Lin KS, Liu YS, Chiou JM, Liang KY, Tsai TF, Wang LH, Chen CT, Huang CY.
Division of Clinical Research, National Health Research Institutes, Zhunan, Taiwan.
BACKGROUND: Most traditional Chinese herbal formulas consist of at least four herbs. Four-Agents-Decoction (Si Wu Tang) is a documented eight hundred year old formula containing four herbs and has been widely used to relieve menstrual discomfort in Taiwan. However, no specific effect had been systematically evaluated. We applied Western methodology to assess its effectiveness and safety for primary dysmenorrhoea and to evaluate the compliance and feasibility for a future trial. METHODOLOGY/PRINCIPAL FINDINGS: A randomised, double-blind, placebo-controlled, pilot clinical trial was conducted in an ad hoc clinic setting at a teaching hospital in Taipei, Taiwan. Seventy-eight primary dysmenorrheic young women were enrolled after 326 women with self-reported menstrual discomfort in the Taipei metropolitan area of Taiwan were screened by a questionnaire and subsequently diagnosed by two gynaecologists concurrently with pelvic ultrasonography. A dosage of 15 odorless capsules daily for five days starting from the onset of bleeding or pain was administered. Participants were followed with two to four cycles for an initial washout interval, one to two baseline cycles, three to four treatment cycles, and three follow-up cycles. Study outcome was pain intensity measured by using unmarked horizontal visual analog pain scale in an online daily diary submitted directly by the participants for 5 days starting from the onset of bleeding or pain of each menstrual cycle. Overall-pain was the average pain intensity among days in pain and peak-pain was the maximal single-day pain intensity. At the end of treatment, both the overall-pain and peak-pain decreased in the Four-Agents-Decoction (Si Wu Tang) group and increased in the placebo group; however, the differences between the two groups were not statistically significant. The trends persisted to follow-up phase. Statistically significant differences in both peak-pain and overall-pain appeared in the first follow-up cycle, at which the reduced peak-pain in the Four-Agents-Decoction (Si Wu Tang) group did not differ significantly by treatment length. However, the reduced peak-pain did differ profoundly among women treated for four menstrual cycles (2.69 (2.06) cm, mean (standard deviation), for the 20 women with Four-Agents-Decoction and 4.68 (3.16) for the 22 women with placebo, p = .020.) There was no difference in adverse symptoms between the Four-Agents-Decoction (Si Wu Tang) and placebo groups. CONCLUSION/SIGNIFICANCE: Four-Agents-Decoction (Si Wu Tang) therapy in this pilot post-market clinical trial, while meeting the standards of conventional medicine, showed no statistically significant difference in reducing menstrual pain intensity of primary dysmenorrhoea at the end of treatment. Its use, with our dosage regimen and treatment length, was not associated with adverse reactions. The finding of statistically significant pain-reducing effect in the first follow-up cycle was unexpected and warrants further study. A larger similar trial among primary dysmenorrheic young women with longer treatment phase and multiple batched study products can determine the definitive efficacy of this historically documented formula.
This is the page of Chinese medicine for women's disorders, you can buy Nu Ke Ba Zhen Wan online here.