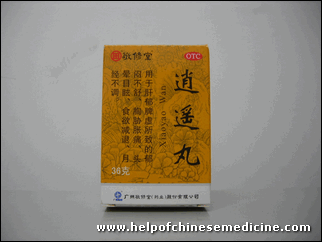 $5.95
Chinese name:
Xiao Yao Wan (shaow yaow wahn), Hsiao Yao Wan
Indications:
Liver qi stagnation, with irritability and menstrual imbalances
Functions:
Moves stagnant liver qi; tonifies blood
Dosage:
3/4 of cap or full cap each time(6-9g), 1-2 times per day, bottle contains 36g
Manufacturer:
Guangzhou Jing Xiu Tang Pharmaceutical Co., Ltd
Description:
Xiao Yao Wan formula could have been placed in a number of categories: It is tonifying (strengthens digestion and builds blood) and harmonizing (relieves irritability and harmonizes energy flow), and it regulates the menstrual cycle. It is by far one of the most popular patent remedies used in North America.

Xiao Yao Wan is the most commonly used formula for moving blocked Liver qi, strengthening the Spleen, and nourishing blood. Beneficial for pains or distension in the side, headache, fatigue, moodiness, irregular menstruation, and other Liver energy stagnation symptoms. This formula was first recorded in 1151AD.
The identification and determination of marker substances in xiaoyao wan by three dimensional HPLC
Chen FK, Meng XS, Guo YZ, Kano Y.
Shenyang College of Pharmacy.
A Chinese traditional patent medicine Xiaoyao Wan was analysed by three dimensional HPLC. The result shows that the Chinese traditional medicines involved in Xiao yao Wan were identified excellently and the content of marker substances can be determined accurately. According to the results of determination, the content of saikosaponin b1, b2, glycyrrhizin, paeoniflorin and atractylenolide III in Xiaoyao Wan was 0.43, 0.53, 5.22, 3.95 and 0.16 (mg/g), respectively; The RSD was 1.2, 0.8, 0.4, 0.3 and 1.0 (%) respectively.450 cases of replenishing qi and xiao yao wan in the treatment of female chloasma
Journal of Jinggangshan Medical College 2001
Effects of chai hu (radix burpleuri) containing formulation on plasma beta-endorphin, epinephrine and dopamine on patients.
Chen JX, Ji B, Lu ZL, Hu LS.
Department of TCM Diagnostics, School of Pre-clinical Medicine Beijing University of Traditional Chinese Medicine, Beijing 100029, China
Chai Hu (Radix Burpleuri), a major ingredient in many traditional Chinese medicine formulas, such as Xiao Yan Wan, is used in the treatment of liver stagnation and spleen deficiency syndrome (LSSDS). The objectives of this study were to examine the effects of Xiao Yao Wan containing Chai Hu on the changes of plasma indices in patients with LSSDS. Fifty-eight cases of LSSDS were randomly divided into two groups: 41 cases in the experimental group were treated with Xiao Yao Wan containing Chai Hu and 17 cases in the control group were treated with Zhi Bai Di Huang Wan for one consecutive month in a single blind design. Before and after treatment, high performance liquid chromatography (HPLC) was applied to determine the changes of plasma norepinephrine (NE), epinephrine (E) and dopamine (DA). Radioimmunoassay was performed to measure the amount of plasma beta-endorphin (beta-EP), adrenocorticotropin hormone (ACTH), estradiol (E2) and testosterone (T), and laser nephelometry was also conducted to measure plasma immunoglobulin A (Ig A) and G (Ig G). Compared to baseline levels, plasma beta-EP was significantly increased (p < 0.01), while E and DA were markedly decreased (p < 0.01) after the administration of Xiao Yao Wan in the experimental group. The other indices did not change. This is the first evidence showing that the effect of Xiao Yao Wan containing Chai Hu on the treatment of patients with LSSDS may be through enhancing plasma beta-EP and decreasing E and DA release. We conclude that Xiao Yao Wan containing Chai Hu regulates nervous and endocrine systems and contributes to the improvement of the clinical status of patients with LSSDS.
Simultaneous analysis of glycyrrhizin, paeoniflorin, quercetin, ferulic acid, liquiritin, formononetin, benzoic acid and isoliquiritigenin in the Chinese proprietary medicine Xiao Yao Wan by HPLC.
Xie J, Wang W, Zhang Y, Bai Y, Yang Q.
School of Chinese Materia Medica, Beijing University of Chinese Medicine, Beijing 100029, China.
A high performance liquid chromatography coupled with photodiode-array detection method was developed for simultaneous determination of glycyrrhizin, paeoniflorin, benzoic acid, quercetin, ferulic acid, formononetin, liquiritin and isoliquiritigenin in the Chinese proprietary medicine "Xiao Yao Wan" (XYW). The analysis was performed by reverse phase gradient elution, using an aqueous mobile phase (containing 0.1% phosphoric acid) modified by acetonitrile and detection made simultaneously at four wavelengths. The method was validated for accuracy, precision and limits of detection and quantification. Ten batches of Xiao Yao Wan obtained from different pharmaceutical companies were analyzed and found to contain different amounts of the eight bioactive markers. This method could be used for quality assessment of this herbal medicine.
This is the page of Chinese medicine for women's disorders, you can buy Xiao Yao Wan online here.