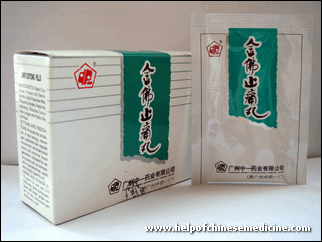 $3.95
Chinese name:
Jinfo Zhitong Wan
Ingredients:
Radix Curcumae, Fructus Citri Sarcodactylis, Radix Paeoniae Alba, Rhizoma Corydalis, Radix Notoginseng, Rhizoma Curcumae Longae, Radix Glycyrrhizae
Indications:
Stomachache, dysmenorrhea, peptic ulcer, chronic gastritis
Functions:
Promotes circulation of vital energy, relive pain, soothe the liver, regulate the stomach
Dosage:
5-10 grams, 2-3 times per day, taken during the pain, bag contains 5 grams, package contains 5 bags.
PRECAUTION:
Contraindicated for the pregnant women and menorrhagia.
Manufacturer:
Guangzhou Zhongyi
Description:
Jinfo Zhitong Wan is a Chinese herbal medicine used for stomachaches, chronic gastritis, abdominal pain.