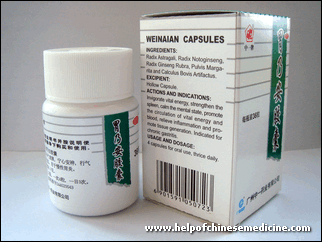 $4.95
Chinese name:
Weinaian capsules
Ingredients:
Radix Astragali, Radix Notoginseng , Radix Ginseng Rubra, Pulvis Margarita and Calculus Bovis Artifactus
Indications:
Indicated for chronic gastritis
Functions:
Invigorate vital energy, strengthen the spleen, calm the mental state, promote the circulation of vital energy and blood, relieve inflammation and promote tissue generation
Dosage:
4 capsules per time, 3 times per day, 36 capsules tablets in one bottle
Manufacturer:
Guangzhou Zhongyi
Description:
Weinaian capsules are used for chronic gastritis.

CAUTION:
1.Dont eat oily or stodgy food.
2.Not suitable for people with stagnation of the liver qi, which is demonstrated with irritability, impatience, sour arms, and burps.
3.Not suitable for people with weak spleen and stomach, which is demonstrated by dry mouth, red tongue, little saliva and dry stool.
4.For fear to influence its efficiency, it is better not to take black falsehellebore, faeces of flying squirrel, Gleditsioside or its pharmaceutics, or drink tea or eat radish when taking this medicine.
5.Not suitable for the pregnant.
6.Take it in compliance with the specified usage and dose; children, the old and weak should follow the doctors instruction.
7.People who are allergic to this product or with allergic constitution should be careful when taking it.
8.Dont take it in case its characters are changed.
9.Children should use it under adults supervision.
10.Keep it beyond childrens touch.
11.When taking other drugs, consult the doctor or pharmacist before using it.
Investigation on Clinical Effect of Weinaian Capsules on Chronic Erosive Gastritis with HP Positivity
Treatment of epigastralgia by external application of huweigao at shenque point.
Ba Y, Xiang N, Tan Z, Zhang Y, Tan Y.
Affiliated Hospital, Hubei College of Traditional Chinese Medicine, Wuchang.
140 cases of epigastralgia were divided into two groups at random. The 100 cases in the treatment group were treated with Huweigao externally applied at Shenque (Ren 8), and the 40 cases in the control group by oral administration of Weinaian capsule. After a one-month treatment, the total symptom-relieving rate and the gastroscopy-proved effective rate were 94.0% and 52.6% respectively in the treatment group, much superior to those in the control group.
Weinaian capsules medicine page, Chinese medicine for chronic gastritis