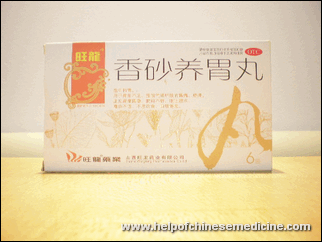 $3.95
Chinese name:
XiangSha YangWei Wan, Xiang Sha Yang Wei Pian, ­»¬â养­G¤Y, Hsiang Stomach Pill
Ingredients:
Citrus Peel, Licorice Root, Aucklandia Root, Atractylodes Root, Cyperus Root, Pinellia Root, Amomum Peel, Magnolia Peel
Indications:
Loss of appetite, acid regurgitation, epigastric fullness and flatulence, lassitude on the extremities, food stagnation, fullness and distention or pain in the thoracic and epigastric regions, vomiting, diarrhea
Functions:
Tonifies spleen qi, removes dampness and phlegm, improve digestion
Dosage:
1 baglet (9 grams) each time, 2 times per day, contains 6 baglets
Manufacturer:
Shanxi Wanglong Pharmaceutical Co.
Description:
Xiang Sha Yang Wei Wan is a natural herbal supplement which enables men and women to eliminate that bloating and distressful feelings of stomach upset. It is a natural product which have been used for hundreds of years by Chinese herbalist as a safe and effective dietary supplement in treating the discomfort of gastric distress.

It is widely used in China for poor digestion due to phlegm-damp, with poor appetite, loose stools or diarrhea, indigestion, acid regurgitation, and nausea. Also useful for dizziness or mental disorders due to stomach phlegm accumulation.

Constantly taken, XiangSha YangWei pills will help nourish and strengthen the stomach.
Biocompatibility of a lab-on-a-pill sensor in artificial gastrointestinal environments.
Johannessen EA, Wang L, Wyse C, Cumming DR, Cooper JM.
Lifecare AS, P.O. Box 1077, 3194 Horten, Norway
In this paper, we present a radiotelemetry sensor, designed as a lab-in-a-pill, which incorporates a two-channel microfabricated sensor platform for real-time measurements of temperature and pH. These two parameters have potential application for use in remote biological sensing (for example they may be used as markers that reflect the physiological environment or as indicators for disease, within the gastrointestinal tract). We have investigated the effects of biofouling on these sensors, by exploring their response time and sensitivity in a model in vitro gastrointestinal system. The artificial gastric and intestinal solutions used represent a model both for fasting, as well as for the ingestion of food and subsequent digestion to gastrointestinal chyme. The results showed a decrease in pH sensitivity after exposure of the sensors for 3 h. The response time also increased from an initial measurement time of 10 s in pure GI juice, to ca. 25 s following the ingestion of food and 80 s in simulated chyme. These in vitro results indicate that changes in viscosity in our model gastrointestinal system had a pronounced effect on the unmodified sensor.
This is the page of Chinese medicine for poor digestion, you can buy Xiang Sha Yang Wei Wan online here.