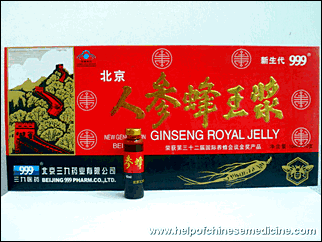 $7.95
Chinese name:
Ren Shen Feng Wang Jiang (ren shen fuhng wahng jyahng) Ginseng and Royal Jelly Syrup
Indications:
Fatigue, poor appetite, feeling cold and weak
Functions:
Tonifies qi and yang
Dosage:
Orally once or twice per day, 10-20 ml each time
Manufacturer:
Beijing 999 Pharm. Co.
Description:
Asian ginseng is a strong tonic to several organ systems that has been used for years to treat fatigue and poor appetite.
With its warm energy, it is especially appropriate for weak, cold individuals who have both qi deficiency and yang deficiency. Symptoms of this deficiency condition include fatigue, low immunity, pale face and tongue, and feeling cold all the time. It has a significant ability to reduce fatigue and strengthen the immune system.

Because of its warm nature, Asian ginseng is not recommended for individuals with high blood pressure or a high metabolism with a tendency to overheat.

Ginseng root his known to enhance the ability of the nervous system to adapt to stress, stabilize blood pressure in cases of shock, and have a synergistic effect with insulin, which may allow a person with diabetes to reduce the amount of insulin used to control blood sugar levels.
Null and opposing effects of Asian ginseng (Panax ginseng C.A. Meyer) on acute glycemia: results of two acute dose escalation studies.
Sievenpiper JL, Arnason JT, Leiter LA, Vuksan V.
Department of Nutritional Sciences, Faculty of Medicine, University of Toronto, Clinical Nutrition and Risk Factor Modification Centre, St. Michael's Hospital, #6 138-61 Queen Street East, Toronto, Ontario M5C 2T2, CANADA.
OBJECTIVE: We have repeatedly reported that a batch of American ginseng with a specific ginsenoside (glycosidal saponin) profile decreases acute postprandial glycemia. We investigated whether Asian ginseng is able to replicate this glycemia-lowering efficacy in two separate acute dose escalation studies. METHODS: Each study was conducted in a separate sample of 11 healthy subjects (gender: 8M:3F and 6M:5F, age: 29 +/- 2y and 27 +/- 3y, BMI: 28.5 +/- 2.1 kg/m(2) and 26.9 +/- 1.4 kg/m(2)) using a randomized, single-blind, placebo-controlled, multiple-crossover design. Treatments consisted of 0 (placebo), 1, 2, and 3 g of Asian ginseng for the first study and 0 (placebo), 3, 6, and 9 g Asian ginseng for the second study administered 40 minutes before a 75g-OGTT protocol with blood drawn at -40, 0, 15, 30, 45, 60, 90, and 120 minutes. Ginsenosides were analyzed by HPLC-UV. RESULTS: Neither the main effect of pooled-treatment, nor dose, nor either factors interaction with time was significant for incremental plasma glucose and insulin. But the diagnostically and therapeutically relevant two-hour plasma glucose (2h-PG) value was significantly higher for pooled Asian ginseng treatment than placebo (5.46 +/- 0.31 versus 4.99 +/- 0.30 mmol/L, p = 0.050). Ginsenoside analyses showed that the Asian ginseng contained up to 96% lower and sevenfold higher quantities of various ginsenosides and their ratios than our previous efficacious batch of American ginseng. CONCLUSIONS: Asian ginseng showed both null and opposing effects on indices of acute postprandial plasma glucose and insulin. This is in contrast to our findings with American ginseng. One explanation may be the marked ginsenoside differences. Practitioners and consumers should be aware of ginseng's variable effects. Mycotoxins in root extracts of American and Asian ginseng bind estrogen receptors alpha and beta.
Gray SL, Lackey BR, Tate PL, Riley MB, Camper ND.
Department of Plant and Environmental Sciences, Clemson University, South Carolina 29634, USA.
The estrogenic activity of ginseng has been the subject of conflicting reports. Cell proliferation, induction of estrogen-responsive genes, and isolated cases of adverse reactions such as postmenopausal vaginal bleeding and gynecomastia have been reported after ginseng treatment. Other studies report antiproliferative effects with no induction of estrogen-responsive genes. We developed estrogen receptor (ER) alpha and ER alpha competitive binding assays using recombinant receptors and [(3)H]-17 alpha-estradiol to detect phytoestrogens in extracts of Asian ginseng root (Panax ginseng C. A. Meyer) and American ginseng root (Panax quinquefolius L.). Root extracts contained substances that bound both receptor isoforms. These substances had a two to three times greater affinity for ER alpha. Significantly higher binding was found in methanol extracts than in hot water extracts. Subsequent analysis of the extracts revealed significant ER binding attributable to zearalenone, the estrogenic mycotoxin produced by several Fusarium species. The ER showed no binding affinity for Rb1 and Rg1, the major ginsenosides found in P. quinquefolius and P. ginseng, respectively. Thus, ginseng extraction methods, plant species tested, and mycotoxin contaminants may help to explain the disparate literature reports.
The effect of Panax ginseng on forced immobility time & immune function in mice.
Shin HY, Jeong HJ; Hyo-Jin-An, Hong SH, Um JY, Shin TY, Kwon SJ, Jee SY, Seo BI, Shin SS, Yang DC, Kim HM.
College of Oriental Medicine, Institute of Oriental Medicine, Kyung Hee University, Hoegi-Dong, Dongdaemun-Gu, Seoul, South Korea.
BACKGROUND & OBJECTIVES: Panax ginseng has been used as a traditional medicine for many years mainly among Asian peoples for developing physical strength. We undertook this study to determine the immune-enhancement effect of P. ginseng using a forced swimming test (FST) and by measuring cytokine production in MOLT-4 cell culture and mouse peritoneal macrophages. METHODS: P. ginseng was orally administered to mice once a day for 7 days. The anti-immobility effect of P. ginseng on the FST and blood biochemical parameters related to fatigue, glucose (Glc); blood urea nitrogen (BUN); latic dehydrogenase (LDH); total protein (TP) and production of cytokines in human T cell line, MOLT-4 cells and mouse peritoneal macrophages were investigated. RESULTS: After two and seven days, the immobility time was decreased in the P. ginsengadministrated mice as compared to the control group; however, this reduction was not significant. In addition, the amount of TP in the blood serum was significantly increased. However, the levels of Glc, BUN, and LDH did not show a significant change. P. ginseng significantly (P<0.05) increased interferon (IFN)-gamma production and expression as compared to control at 48 h in MOLT-4 cells. P. ginseng plus recombinant IFN-gamma instead of P. ginseng alone significantly increased the production of the tumour necrosis factor (TNF)-alpha in the mouse peritoneal macrophages. INTERPRETATION & CONCLUSION: Our results suggest that P. ginseng may be useful for an immune promoter. Further studies are needed to understand the mechanism of its action.
This is the page of Chinese medicine for pain relieve, you can buy Ren Shen Feng Wang Jiang online here.